Share
Regular price
Rs. 1,499.00
Regular price
Sale price
Rs. 1,499.00
Unit price
per
Sale
Sold out
Our cast brass urli candles made with pure beeswax and essential oils. You can choose between the lilting subtle woody scent of sandalwood or the subtle yet heady floral scent of champaka. Their distinct & warm notes are guaranteed to spread to every corner of the room making them perfect for the festival seasons and other auspicious occasions.
They also make the perfect gifts during the festival season and auspicious occasions.
Additionally, these candles made of cast brass can be reused and repurposed once the candle burns out, and can be used as décor, festival decoration or even to hold other free standing candles.
Product Description

The cast brass urli are sourced directly from craftsmen and brownsmiths in Kerala.

The candle which is made with a blend of pure yellow beeswax and white (filtered) beeswax, is known for it's high burning point, making your candles last longer, and have a very subtle lilting natural scent of honey and leaves behind little residue.

The beeswax is sourced from local apiaries in Karnataka. The apiaries we have tied up with work closely with farmers to spread the knowledge of beekeeping, empower farmers & help supplement their income through beekeeping.

Your urli candle has a burn time of approx. 10 - 15 hours depending on how they are maintained.
Product Details

Material - Brass; Blend of White & Yellow Beeswax
Colour - Brass; Off-White
Dimensions - 3.5" diameter x 2" height
Weight - Approx. 330 gms each

View full details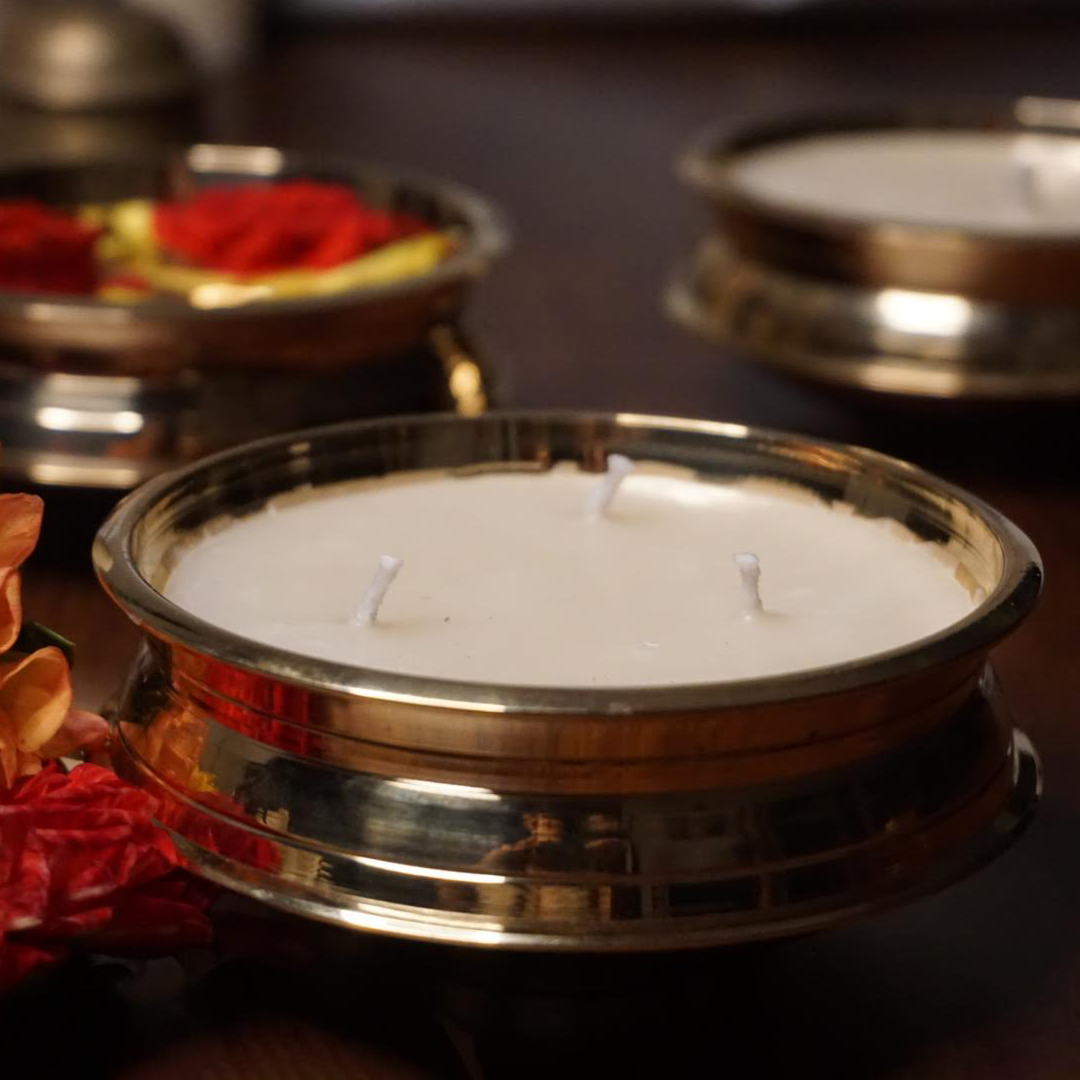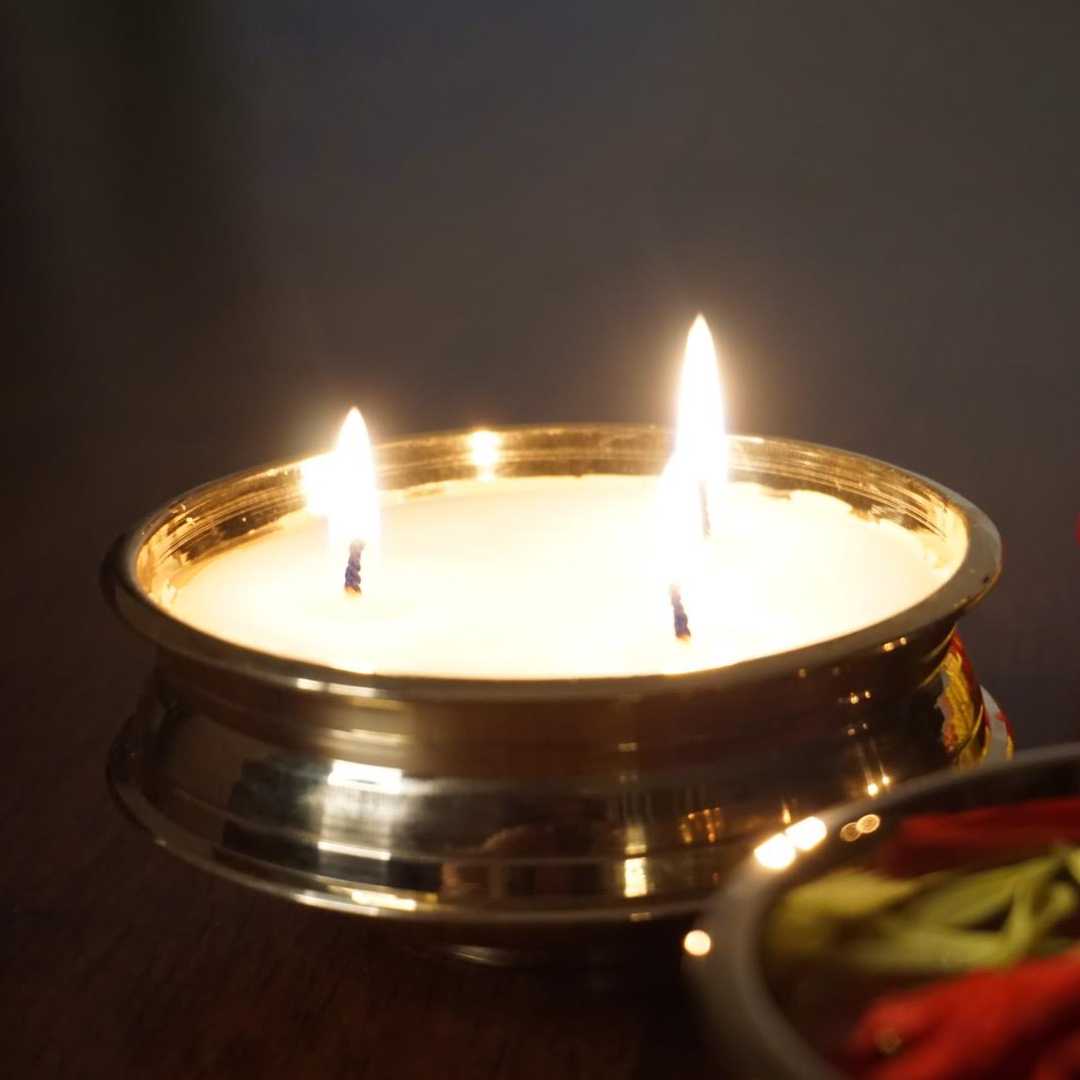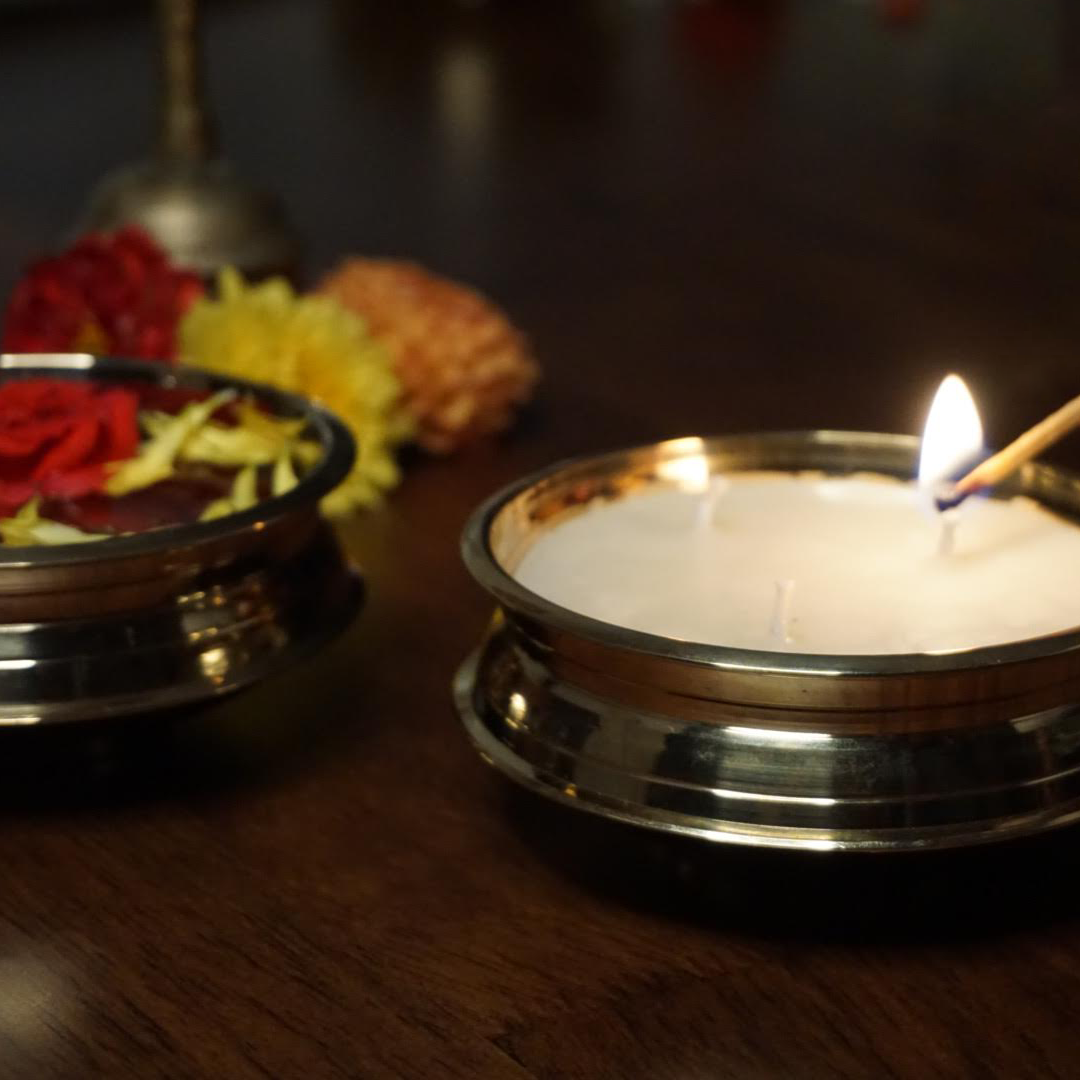 Other Product Details
Care Instructions

1. For the first burn, ensure the candle is kept lit till the wax liquifies till the edges of the urli to avoid tunneling.

2. If candle is kept burning for longer periods of time (over 3 - 4 hours), this can cause the urli to heat up. Handle with care especially when lit. Avoid keeping it directly on wooden surfaces.
Ideal burn time is approx. 2 hours at a time

3. After the candle burns out, to clean the urli, use tongs and place it over a low flame. This would melt the remaining wax, which can then be wiped clean with a tissue / waste paper. Once cooled, remove the wick & wick holder, and any remaining wax can be washed with soap and a gentle scrub.
Alternatively, you can use coconut oil to easily clean out any remaining wax.
Shipping and Return Policies

Shipping Charges - Free shipping across India on order value above Rs 2,500/-
For order value under INR 2,500/- shipping rate of INR 99/- is applicable.

Cancellation - Orders can only be cancelled before they are packed / dispatched. Once packed and/or dispatched, the order cannot be cancelled and non-acceptance will be considered as a return, and charges would be levied as stipulated in the Shipping & Cancellation Policy.

Replacement - We pack our products with a lot of love and care so that it reaches our customers safely. In the unlikely event that the products you have purchased are damaged, defective, incorrect order, or if you feel your package has been tampered with, please drop an email at help.kalosdecor@gmail.com at the earliest and take a video before opening your package, especially if your order contains fragile products.

Return - Kalos has 10-day replacement & return window post delivery of the product. Returns will be accepted only if the product is in its original packaging, with the invoice, undamaged and un-used.

For more information on our Shipping, Cancellation, Replacement, Return & Refund Policies, you can visit Shipping & Cancellation Policy information page here.
Disclaimers

1. Product color might slightly vary from the images shown due to different computer / device screen & display resolutions

2. While we strive to keep each batch uniform, minor colour, size, weight variations might occur in different batches

3.The brass urli are crafted by brownsmiths, please allow for minor variations among each piece.

4. The candles are blended by hand and are hand poured. Please allow for minor variations among each piece during the crafting process.
While we filter out for any debris, since we use pure unfiltered beeswax as the main component, you might find some leftover debris usually at the bottom of the urli. This does not affect the burn or the quality of the candle, and is not harmful.
More Information

Country of Origin - India

Packed & Mkt. by - Kalos Art & Decor, HSR Layout, Bengaluru, Karnataka - 560102

Prices mentioned are inclusive of all taxes.
Festival light candle -Brass
I have purchased and gifted these Festival light candles during Last Deepavali Festival. Everyone liked these Festival candles. It lasts long and one candle will be sufficient for entire Deepavali Festival. The brass base can be reused for multiple purposes.
Absolutely lovely!
The candle is very beautiful and the fragrance is very soothing and pleasant. Lighting it up for even a short while fills the entire room with a wonderful smell.
The three wicks also ensure that the candle burns evenly. After all the wax was finished, I was left with a beautiful brass urli that I can use as home decor. Altogether a lovely product ❤️
Let customers speak for us